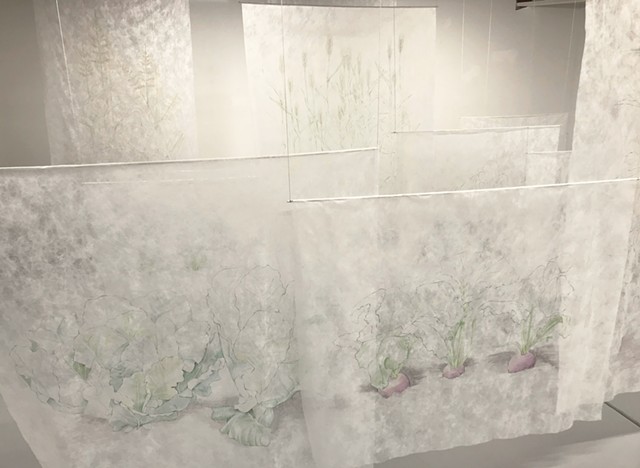 Harvesting Ethnic Roots
Graphite, colored pencil, marker, crop cover cloth, wood, paint, cord
Part of Installation
Harvesting Ethnic Roots - Solo exhibition at Boundary, April 17 - June 5, 2021.
2334 West 111th Place, Chicago
Curated by Susannah Papish
This program partially supported by a grant from the Illinois Arts Council, a state agency.
Harvesting Ethnic Roots was a solo exhibition at boundary consisting of an installation of large drawings on sheer material normally used to cover vegetable rows and an outdoor installation of seed. As an artist and farmer, my interests in food sovereignty and immigration combined with research on the history of Morgan Park's residents, resulted in this series based on the Indigenous Peoples, European settlers, and Black Americans who have gathered and cultivated food from the land. The installation creates a ghostly and dreamlike walk-through of plants and vegetables symbolic of the harvest and the sharing of traditional dishes.
The rows of overlapping panels hang from cotton cord like those used during vegetable growing. They gently sway as the viewer walks through the translucent succession of plant imagery, representing foods gathered from the land and plants cultivated for harvest. The first row is dedicated to Black Americans whose population flourished in the area during the Great Migration beginning in 1915, the second to Europeans who established settlements in the 1830s, and the third row to the Indigenous Peoples, who had resided there for centuries and initiated how to live off the land.
Review in Visual Art Source by Robin Dluzen
Article in the Daily Southtown by Carol Flynn